MOTIVES
Our Aesthetic Visitor: Why Oscar Wilde Came to America
©Copyright Marilyn Bisch, President, OWSOA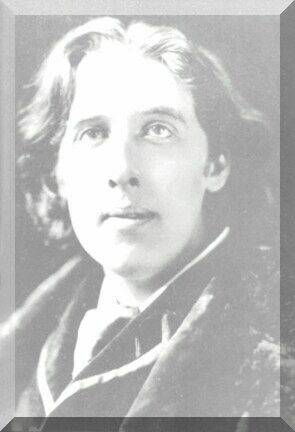 Oscar Wilde visited North America only twice, in 1882 and 1883. His second trip, devoted to the production of his first play, was short and spent mostly in New York, but his 1882 visit lasted nearly the entire year.
He arrived in New York harbor aboard the S. S. Arizona on 2 January and departed for England on the S. S. Bothnia on 27 December. In the intervening months Wilde criss-crossed the continent, presenting well over 100 lectures primarily on issues related to the arts, fashion, and house decoration.
His tour was arranged and managed by the Carte Bureau in New York, an enterprise of London theater owner and producer, Richard D'Oyly Carte, best known for his association with Gilbert and Sullivan. Following the success of the comic operettas H.M.S. Pinafore and Pirates of Penzance, the pair composed Patience, a satire of the Aesthetic Movement in England with which Wilde was widely associated.
Patience premiered in London on 23 April 1881 and in New York on 22 September of the same year. D'Oyly Carte, recognizing the profitability of using Wilde to promote Patience, and Patience to promote Wilde, engaged the satirized aesthete to lecture on 9 January 1882 in New York. The success of this initial venture led to the year-long tour which took Wilde from the Atlantic coast to the Pacific, and from the Gulf of Mexico into Canada.
It is important to note that the Oscar Wilde who came to America was not the Oscar Wilde he would become. In 1882 he was eight years away from writing The Picture of Dorian Gray and it would be 1895 before The Importance of Being Earnest solidified his success as a playwright—success cut short by his infamous arrest. As 1882 began, the 27-year-old Oscar Wilde was spending as much time building a name for himself as he was in producing work that would ensure its remembrance.
This is not to contend, however, that the young Wilde was merely an idle dandy. True, he had for several years devoted himself to being seen everywhere in London. He attended all the best theatrical and artistic events, shared his generous wit at fashionable dinners and teas; but his determination to make his name well-known had, I think, a surprisingly practical purpose: Oscar Wilde was a young man in search of a profession.
He had distinguished himself academically, particularly as a student of Greek and Latin, first in his hometown, at Trinity College, Dublin, from 1871 to 1874, and then at Magdalen College, Oxford, where he studied from 1874 to 1878.
During these years Wilde took great interest in not only classics, but also literary criticism, philosophy, religion, and art. At Oxford he went in for drama, wrote and published poetry, and entertained friends in his carefully decorated rooms amid a collection of increasingly famous blue and white Oriental china.
Wilde's passion for scholarship, the arts, and entertaining came naturally. His father, Sir William, was reputedly the most expert eye and ear surgeon of his day and was knighted for his services as Surgeon Oculist to the Queen in Ireland in 1864. Sir William was also an archeologist and antiquarian and the author of thirteen books, including volumes on Irish folklore and history.
Wilde's mother, Jane, Lady Wilde, was an ardent Irish nationalist. In her youth she published fiery, revolutionary poems under the pen name Speranza. In married life she entertained professionals, politicians, and poets in her salon in the family's Dublin home. Both of Wilde's parents were great talkers and both were considered rather eccentric.
Equally eccentric were the scholars who influenced Wilde's studies. At Trinity his mentor was the Rev. John Pentland Mahaffy, an eminent classicist with whom Wilde toured Italy in 1875 and Greece in 1877. At Oxford Wilde studied with equally independent-minded teachers. He was profoundly influenced by the aesthetic and socialistic ideas of John Ruskin and by theories on the importance of pure beauty expressed by Walter Pater.
A crowning achievement of his years at Oxford came in 1878 when Wilde won the Newdigate Prize for Poetry. The subject of the poem, Ravenna, Italy, was selected by Oxford authorities. As luck would have it Wilde had visited Ravenna with Mahaffy in 1877.
By the time of his graduation from Oxford—with the highest possible marks in classics—Wilde had begun to write and publish critical essays as well as poems; the achievement of the Newdigate Prize bolstered his credentials, but making a living from these pursuits was difficult.
About this time Wilde made the often-quoted and seemingly prophetic statement about his ambitions: "God knows, I won't be an Oxford don anyhow. I'll be a poet, a writer, a dramatist. Somehow or other I'll be famous, and if not famous, I'll be notorious."
Despite this sentiment, Wilde seems to have had a real interest in obtaining a teaching position. (see The Complete Letters Of Oscar Wilde, Merlin Holland and Rupert Hart-Davis, editors, 2000. pp. 77-78). Job openings for classics' scholars, however, were few even then. By 1879 Wilde was spending most of his time in London, where his prospects as a writer were brighter.
In 1880 he wrote his first play, Vera; or, The Nihilists, a drama of a young Russian girl who conspires to assassinate the newly-crowned Czar. Discovering that the young Czar is also a nihilist, Vera falls in love with her intended victim and commits suicide to save his life. Wilde wasted little time in using his charm and his theatrical connections in hopes of securing a producer for his first play.
By now, the intelligent and charming young Wilde was developing an ever-widening circle of friends among the actors, artists, writers, and society scions of London. Some of the best known were the artist, James McNeill Whistler; the great professional beauty, Lillie Langtry; and her ardent admirer, the Prince of Wales, later King Edward VII.
Through his writing, his associations and, even more, his conversation, Wilde was becoming increasingly recognized as a leader of the Aesthetic Movement, which was never so much an organized "school" of art as it was an attitude toward the necessity of beauty in life.
English aestheticism had many "sources," but for Wilde especially it was connected to the philosophy of "art for art's sake" espoused by Walter Pater in the "Conclusion" of his 1873 Studies in the History of the Renaissance. The Epicurean "Conclusion," urging young men continually to seek out new sensations and "to burn always with this hard gem-like flame," caused such a public furor and so many charges of promoting hedonism that Pater removed it from the 1877 edition of his book.
The same charges were also laid against Wilde and other "aesthetes." More often, however, the vaguely-pagan, languid "apostles of art" were ridiculed—in their call for a return to "artistic" dress (including knee-breeches and silk stockings for men), their preference for subdued colors, and their championing of the rose, sunflower, and lily—for just being silly.
A cartoon entitled "Nincompoopiana–The Mutual Admiration Society" appeared in the 4 February 1880 issue of the London humor magazine Punch. The drawing by George Du Maurier and caption by Punch editor F. C. Burnand poked fun at the fictitious Maudle, "the great painter;" Jellaby Postlethwaite, "the great poet, you know, who sat for Maudle's 'Dead Narcissus;'" and Mrs. Cinabue Brown, aesthetic hostess of the salon where Maudle and Postlethwaite preached the gospel of the new art.
It was generally assumed that Whistler, Wilde, and Mrs. Joseph Comyns Carr, wife of the director of the Grosvenor Gallery where Whistler displayed many paintings, had provided models for the jest. The series of cartoons continued for several years. In time, the physical resemblance between Jellaby Postlethwaite and Wilde became pronounced.
Not only in cartoons did Punch delight in mocking Aestheticism, and especially Wilde. There were various "news" quips, and quite a few satirical verses attributed to "Oscoro Wildegoose" or "The Wild-Eyed Poet."
It is fair to note that the satirical weekly targeted just about everything and everybody of popular interest in its columns. Punch seemed to take a particular delight in gibing D'Oyly Carte over the name of the theater he built in 1881, insistently referring to it not as The Savoy, but as The Saveloy, which, as far as I can tell, means, "The highly seasoned smoked pork sausage."
It wasn't long before satires of Aestheticism started showing up on London stages. The Colonel, by Punch editor Burnand, opened on 2 February 1881 and featured a cast of characters including Basil Giorgione, the Knight of the Lily, and Lambert Streyke, a swindler who bilked his aesthetic followers by selling them volumes of his bad poetry.
On 23 April, D'Oyly Carte opened Patience. The character of Reginald Bunthorne, a Fleshly Poet who wore knee-breeches and carried a sunflower, was widely associated with Wilde.
The success of these theatrical spoofs was aided by the June publication of Wilde's first volume of poems. Unfortunately, the success of the plays also influenced the reception of Poems, which Wilde described as "a very tornado of lies and evil-speaking" (Complete Letters 114).
Punch titled its review "Swinburne and Water," and, first having compared Wilde to Lambert Streyke, continued:
The cover is consummate, the paper is distinctly precious, the binding is beautiful, and the type is utterly too. Poems by Oscar Wilde, that is the title of the book by the aesthetic singer, which comes to us arrayed in white vellum and gold. There is a certain amount of originality about the binding, but that is more than can be said for the inside of the volume.
In addition to the charge that he had produced a highly derivative "volume of echoes," some of Wilde's poems were attacked as base and immoral, in particular "Charmides," which, in graphic but lyrical terms, tells the story of a young Greek lad who falls in love with a statue of Athena.
Worse than any stinging review was the reaction that came from his old school. Following the customary request from the librarian, Wilde sent an inscribed copy of Poems to the Oxford Union Society. He was understandably hurt when the same society voted on 3 November 1881 to reject his presentation copy.
Criticism of Wilde was becoming less good‑natured and more personal, yet he was undaunted. And this first major work was not entirely unsuccessful. With Wilde covering all the expenses, five editions of Poems, of 250 copies each, were printed in London within a year.
The volume was also published in the United States, where it was appreciated by some but met the same generally negative critical reaction. More importantly perhaps, the satires of Patience, Punch, and its American counterpart Puck, generated an increasing interest among Americans, aesthetic or not, to know more about poet himself and his ideas.
D'Oyly Carte was too savvy a business man not to see the potential in "bringing over" Wilde to America. Public lectures were a highly popular form of entertainment of the day. The Carte Bureau was one of many central booking agencies that profited from arranging lectures in cities across the country.
D'Oyly Carte stood to make money not only on Wilde's appearances, but also on his productions of Patience. In the 1880s the laws governing copyright of operettas such as Gilbert and Sullivan's were almost entirely ineffective. D'Oyly Carte's only real defense against losing profits to copy-cat productions was to produce and promote authorized versions of Patience in America. If Wilde were a success on the lecture platform he would serve as an excellent "advance poster" for D'Oyly Carte's official Patience.
Even as a rumor Wilde's American tour smacked so much of a mere publicity scheme that the press was quick to comment. In "A Sort of 'Sortes,'" a 12 November 1881 article based very loosely around a quotation from Byron, Punch made the popular view manifestly clear.
First posing the question from Byron, "Say, why should Oscar be forgot," Punch added another: "Will the Saveloy Manager 'exploit' him in America as a splendid advertisement for Patience?" D'Oyly Carte's motives I think were primarily mercenary. That Wilde agreed to lecture solely for the money I quite agree with Vyvyan Holland is "manifestly untrue" (Oscar Wilde 32).
This is not to say that profit was not a factor in his decision to accept D'Oyly Carte's offer. In 1877 Wilde confessed to an Oxford friend that his two great gods were, "Money and Ambition" (Complete Letters 39). His life in London, where he supported himself largely as a free-lance journalist, had shown that he had an abundance of the latter, but never quite enough of the former.
For some time he had hoped Vera would improve his finances. In October 1880 he wrote to a sympathetic friend, the actor Norman Forbes-Robertson, "I have not yet finished furnishing my room, and have spent all my money over it already, so if no manager gives me gold for The Nihilists I don't know what I shall do" (Complete Letters 99).
Wilde's worry here seems genuine, yet he goes on to admit how he had spent all his money, "I couldn't really have anything but Chippendale and satinwood. I shouldn't have been able to write." He wasn't exactly thrifty with the income he had.
In 1881 he at last succeeded in finding a producer for his first play—his friend Dion Boucicault. Vera was set to open in London on 17 December, with Mrs. Bernard Beere in the title role, but did not. Wilde's fictitious nihilist had saved his fictitious Czar, but the real Czar Alexander II, whose wife was sister-in-law to the Prince of Wales, was assassinated by very real nihilists in March.
America offered a new market for Vera, as well as for his other writings. Wilde had developed a commendable grasp of marketing and understood the value of personal contact with publishers, other artists, and the public.
What's more, as I am certain Wilde realized, lecturing itself might prove to be a new way to make a living. If he was successful, which he was, and enjoyed it, which he did, he might continue to lecture in Britain, which he also did. Given the hostile reaction to his Poems in England, he was probably wise first to practice his lecturing in a foreign land.
Wilde's ambitions to earn money and establish himself in a profession were certainly factors in his decision to come to America. In recognizing these very practical reasons, however, we should not obscure two additional motives which I think are equally important.
It's easy to forget that the flamboyant Wilde was also a serious scholar. His penchant for traveling and learning, remembering what he learned, and using that in his writing had show itself at least as early as "Ravenna." America offered a wealth of new experiences and new knowledge.
The ship that brought him to New York was still in quarantine when Wilde gave his first interview to reporters. Though this 2 January interview is more commonly remembered as the source of his famous, if apocryphal, quip that he was disappointed with the Atlantic, Wilde is quoted by a reporter in the 3 January New York World as having said, "I came from England because I thought America was the best place to see." The New York Times reported in their "Ten Minutes with a Poet" of the same day, that, "Of one thing he was certain, that if he accomplished nothing else he will have seen America."
Wilde expanded on this thought as the boat docked the following day. The 4 January Indianapolis Journal quotes this remark: "I shall remain long enough to see what there is worth seeing in glorious America. I have come to get acquainted with the big-hearted American people." Though probably calculated to flatter the American public, I suspect there was more truth in Wilde's words to these interviewers than many have been willing to see.
Wilde might have confined his tour to the East and well-known cities in the rest of the country. The fact that he not only spoke, but also visited art schools and artists in many places far less "important," shows that he had a genuine curiosity and considered "worth seeing" much that writers about his tour have failed to perceive.
Wilde also, I think, came to America not only to learn but to teach. Though widely regarded as a "pose," Wilde's aestheticism was actually a result of strong and well-reasoned convictions.
He had absorbed his mother and father's scholarly and nationalist interests, Ruskin's socialist teachings and Pater's theories about art, combined them with his classical education, added to them his extensive knowledge of philosophy, theology and political history, and developed out of all of this a unique, egalitarian outlook on the redemptive value of beauty in the every-day life of all individuals and the role of the artist in the modern world.
It was an outlook which he would continue to hold, despite great public ridicule, for the rest of his life. Over the course of 1882, he would continue to clarify and expand the definition of "Aestheticism" he gave in his first American interview: "Aestheticism is a search after the signs of the beautiful. It is the science through which men look after the correlation which exists in the arts. It is, to speak more exactly, the search after the secret of life."
Oscar Wilde came to America to reveal nothing less.
©Copyright Marilyn Bisch, President, OWSOA