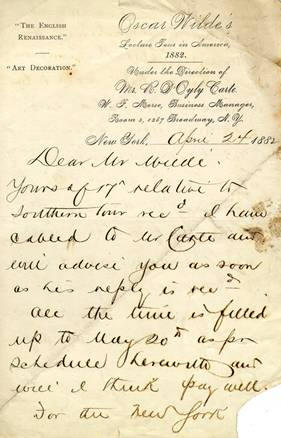 <![if !vml]>

<![endif]>SOURCES AND STANDARDS
The length and complex arrangement of Wilde's visits to America present considerable challenges, and necessarily makes this an evolving project.
We naturally provide many details that include, but are not limited to, dates, locations, lecture subjects, meetings, social occasions, and incidents.
We are fortunate to be able to build upon the work of Wilde scholars who have gone before us. We owe them a great debt of appreciation. However, we use previous Wilde scholarship only as a starting point for our research.
Our standard is that no factual statement will be made unless it can be supported by a primary source.

PRIMARY SOURCES

By a primary source we mean the contemporaneous and documented viewpoint of a individual participant or observer, usually in the form of:
Newspapers, periodicals and other published materials reporting actual events, interviews, etc., by participants or observers.
Journals, speeches, letters, memos, manuscripts, diaries and other papers in which individuals describe events in which they were participants or observers.
Records of organizations. The minutes, reports, correspondence, etc. of an organization or agency.
Memoirs and autobiographies, although these may be less reliable as they are often written long after events and may be distorted by bias, dimming memory or the revised perspective that may come with hindsight. However, they are a primary account and sometimes the only source for information.
Photographs
Our main source of detail has been actual newspaper accounts of the time, found either by personal research at libraries, museums, and personal collections, or online sources such as Newspaper Archive and Google Books.
Several works are well annotated and referenced so that original sources are easy to locate. For instances, Holland & Hart-Davis's Letters is substantially annotated and the letters themselves are almost always factual and contemporaneous. Lloyd Lewis and Henry Justin Smith's Oscar Wilde Discovers America: 1882 is also replete with information, much of it sourced.
Primary source verification will usually be shown footnoted or hyperlinked to a separate note describing the source.
BIOGRAPHIES, ET AL
Although there are many valuable records in biographies, we are naturally suspicious of them.
First, no biography of Wilde was published during his life time, and while a few early biographies were written by Wilde's contemporaries, they occasionally follow a personal agenda: e.g. Sherard's sycophancy; Harris's artistic license; Douglas's bitterness.
While more recent biographies can still have this tendency (e.g. Knox, McKenna), their chief flaw is that many do not cite sources, or they slavish cite, or merely repeat without citing, previous biographers. The biography often cited as the 'definitive' account of Wilde's life is Ellmann, and while it is a masterful work, there are two books of corrections to it.
Often one finds that a 'fact' in one biography, when traced back through the successive biographies, either does not originate in a primary source or repeats a distorted viewpoint.
THE INTERNET
Worthy of even more skepticism is the Internet, where there is much laziness and very often, especially with quotations, no sources given. Owing to the Internet's ability as a powerful tool of propagation, erroneous and apocryphal material gains currency. We aim to correct that trend.
LEGEND
Letters: Holland, Merlin. The Complete Letters of Oscar Wilde edited by and Rupert Hart-Davis, London: Fourth Estate; New York: Henry Holt, 2000.
Ellmann: Ellmann, Richard. Oscar Wilde. London: Hamish Hamilton; New York: Knopf, 1987.
Beckson: Beckson, Karl E., ed. The Oscar Wilde Encyclopedia. New York: AMS Press, 1998.
L&S: Lloyd Lewis and Henry Justin Smith. Oscar Wilde Discovers America: 1882 by 1936. New York: Benjamin Blom, reprinted 1967.
Mikhail: Mikhail, E. H., ed. Oscar Wilde: Interviews and Recollections. 2 vols. London: MacMillan, 1979.
Millard: Millard, Charles. Oscar Comes to North Carolina. Raleigh: Charles Millard, 1999.
O'Brien: O'Brien, Kevin. Oscar Wilde in Canada: An Apostle for the Arts by Toronto: Personal Library, 1982.
Page: Page, Norman. An Oscar Wilde Chronology. Houndmills: MacMillian; Boston: G. K. Hall, 1991.
NYT: The New York Times.